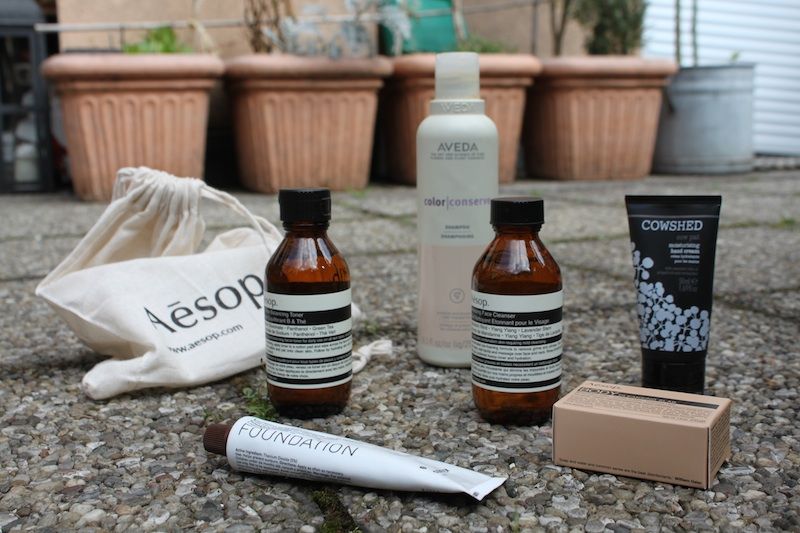 While I could say that it is the reductionist approach to beauty and product design that appeals to me most about brands like
Aesop
and
Korres
- really, it's all about the smell.
Incidentally, over at Aesop not "one of those 79 formulas has been contrived to smell good. The ingredients are chosen because they will deliver the outcome that we want for your skin. The aromas are an extraordinary benefit for us, but they're not sought in a formulaic way." (
x
)
However, with it's medicinal-looking amber glass bottles Aesop does have a certain old school appeal for those of us who prefer their beauty shelfs uncluttered & looking like all they do is read Allen Ginsberg and drinking black coffee.
In any case, what these nouvelle vague brands stand for most is a balanced approach to skincare and life in general. As such, Aesop recommends "a healthy diet, sensible exercise, a moderate intake of red wine, and a regular dose of stimulating literature." (x)
Here are a couple of my newfound discoveries::
Both the

Aesop Amazing Face Cleanser

and the

B & Tea Balancing Toner have a nice barely-there feel to them. I think even from just looking at the restrained flacon design with its typewriter font, you can tell that the scent would have a crisp & tangy air to it. Yet, the products don't feel stingy. In hindsight, I am super bummed I didn't also buy the Mandarin Facial Hydrating Cream. Back in the day Gaia Repossi would fly to Paris from Italy to stock up on it & I get why.
Aveda's Color Conserve Shampoo smells so wonderfully like lavender - if the scent wasn't so strongly connotated with old ladies crocheting doilies I would swathe my whole body in it.

With the

Cowshed hand balm

it's also all about the texture - the lotion has such a nice velvety finish to it. It feels almost like you're wearing velour gloves.

The

Korres Ginger & Vitamins

foundation leaves my skin so buttery soft & dewy. And since the product is water-based it's also immensely blendable & most importanly hydrating.
"Our design sensibility is somewhere between the utility of Muji and the luxury of Hermès. It's about substance, not spin. Understated, discreet, refined. It's the way we see the world, which is perhaps not for everyone but certainly appealing to those who connect to our views."
Dennis Paphitis, Aesop founder
(
x
)