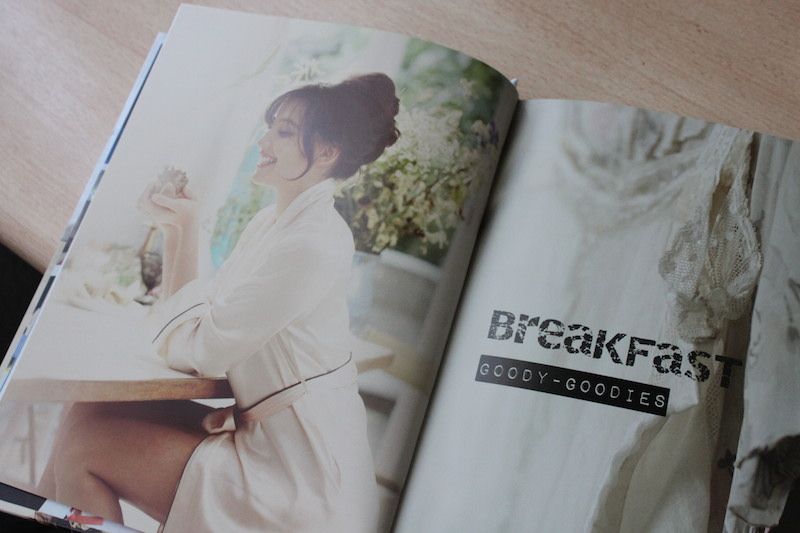 As someone whose sweet tooth can easily rival Daisy Lowe's, but would like to eat healthier - this book was pretty much made for me. Daisy didn't exactly reinvent the wheel here and none of the dishes are anything new. But where they do differentiate themselves from other cookbooks, is the ingredients. Mostly she simply swaps xylitol or agave syrup for sugar. However, besides being free of refined sugar, a lot of the recipes are also raw, vegan or gluten-free, which does make for a lot of interesting new twists to traditional cakes or breakfast foods.
The book starts and ends with a photo collage of Daisy & her friends,
which Daisy said
was to make the book more personal. The photos of Daisy scattered throughout the book,
shot by Guy Aroch
, are as delicious as the food pictured next to her. So all in all, it's not too hard on the eyes.
For anyone owning tons of other cookbooks already, especially of the healthy variety, this book probably wouldn't introduce a lot of new recipes to the household. For anyone else with a lifelong love affair with treats, who might want to try some healthier alternatives, and likes to bake, I feel like this book would make a nice addition to the bookshelves.
P.s. I haven't tried any of the recipes yet & won't be home over the weekend to try any, but most of them don't seem too elaborate in their preparation.